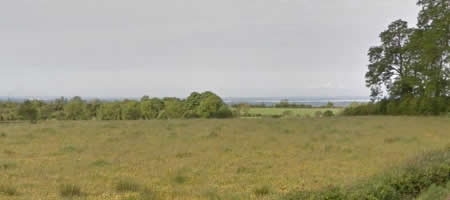 Drumanduff is a townland in the parish of Ballinderry, County Antrim.
In 1833 we find Robert Oakman living on a leased farm of just over 9 acres in Drumanduff.
On neighbouring farms were  William Hunter, Jane Hunter and James Hunter.  The name William John Oakman has been pencilled in at a later date on the farms of James Hunter and Jane Hunter.
James Hunter's farm consisted of 5 acres, 0 roods, 20 perches and Jane Hunter's consisted of 8 acres, 3 roods, 14 perches.  This gave William John Oakman  13 acres, 3 roods, 34 perches of adjoining land.
The 1851 Census for Ballinderry shows William John Oakman living with his father in Templecormac on a property named "Ashvale".  "Ashvale" was a stone's throw across the field from William's land in Drumanduff.
The valuation records of 1863 shows John Oakman owning Robert Oakman's house plus the land once leased by Robert Oakman.  John's land now consisted 24 acres 1 rood 15 perches and included part of the land once belonging to William Hunter.  John was leasing Robert Oakman's house to John Hunter.
John Oakman died in 1866 and it appears his son William John inherited his father estate in Drumanduff and Templecormac.
By 1879, William John Oakman's name is listed as owning Robert Oakman's house and leasing all of the above land.  John Hunter was still renting the old house.
By 1888, William John Oakman held the Freehold for the above properties and John Hunter continued renting the house and attached garden.
William John Oakman still owned the property in 1902 and was leasing the house to Mary Flynn. 
William John Oakman died at "Ashvale" in Templecormac, on 15 May 1906.  In his Will he bequeathed the land, known as "Hunter's Farm" in Drumanduff to his son Thomas Higginson Oakman..

Thomas Higginson Oakman died in 1911 and from 1913 "Hunter's Farm" is in the name of Thomas' brother-in-law George Grant.  George had married William John's daughter Ruth Oakman.